OnePlus conquers new heights, on the flagships of the company it will be possible to play Fortnite at 90 fps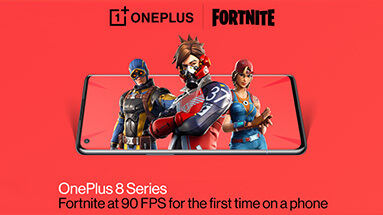 As you know, Fortnite is the most popular game at the moment, at the beginning of May 2020, more than 350 million new users were recorded, and the mobile version of Fortnite was also very successful. This project has already gathered many famous advertising companies and still continues to amaze users with interesting collaborations. In 2018,
Fortnite
became an exclusive month for the Samsung Galaxy Note 9 smartphone for a whole month, and after that it was available for Samsung devices for another 3 months. A new wave of such marketing started in 2019, when Fortnite Mobile offered 60 fps on some devices. In the new technological year, enough devices with a refresh rate of 90 Hz and even 120 Hz have already appeared. So OnePlus announced a partnership with Epic Games. The company's new flagship smartphones are the first in the world to offer Fortnite players a smooth game at 90 fps. OnePlus also mentioned that this work cost them several months. But the good news does not end there, OnePlus reported that the owners of smartphones: OnePlus 7, OnePlus 7 Pro, OnePlus 7T and OnePlus 7T Pro will also be able to play Fortnite, but only at 60 fps. Thus, it can be noted that the development of the frame rate of the screens goes in the right direction, because it gives others the opportunity to use their device to the maximum.