Surgeon Simulator 2 - announced a new part of the insane simulator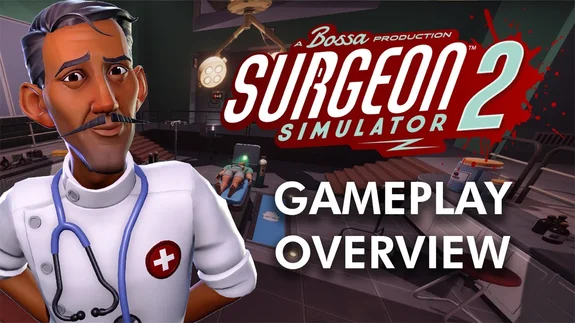 Studio Bossa Studios became known worldwide thanks to, released in 2013, the project Surgeon Simulator. After that, everyone who was not lazy, simply had to play this hilarious and caricatured simulator of a crazy surgeon.
And now, after 7 years, the studio Bossa Studios announced the trailer for the sequel, loved by all the simulator, called Surgeon Simulator 2. The video details the features of the new items, and also reveals a lot of interesting information and gameplay. Players will move to England mid-century and get into a completely new environment. Your experiment will be the good old patient Bob, but this time not only his chest will be revealed. This time you will have more "surgical" equipment to perform complex operations such as heart transplantation or lung transplantation. A brand new diagnostic scanner will help you throughout the operation to monitor the state of Bob. And during extreme operations, friends will always come to your aid!
Now in Surgeon Simulator 2 will be available in multiplayer mode for up to 4 people.
And the main roles will be:
Penny.

Kamal.

Heather.

Milo.

They are just geniuses in their field, believe me, it will not be boring. The game is simply created to teach everyone the art of surgery. In addition to operations, you have to go through tests and work a little brain. In addition, each player will be able to create their own operating room, using the set of "Bossa Labs Creation Tools".
But that's not all, the developers promise to reveal more information about the project in the near future. The game Surgeon Simulator 2 will be released in August 2020 and will become exclusive to the Epic Games Store.