DJI Mavic Mini - a little helper for creating unforgettable videos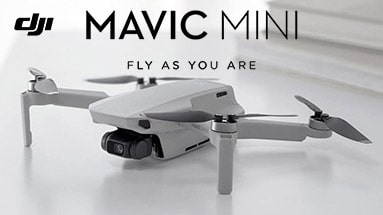 DJI company has replenished its ranks with a new flying device, it became the smallest and most compact drone - Mavic Mini. This device belongs to the category of "safe drones", it will not need to be registered for most countries. The Mavic Mini is made from lightweight materials, making it 249 grams in weight. When folded, the drone fits easily in the palm of your hand. Thanks to its compact size, it can easily fit in your pocket and in a small handbag; You can always use it in the most unexpected situations.

The drone is equipped with an excellent security system, which includes:
The Mavic Mini is controlled using the remote control, the flight time is 30 minutes, the connection to the remote control is provided by Wi-Fi, and there is also a GPS navigator for precise location and flight stability. The Mavic Mini camera is capable of shooting at 2.7K at 30 frames per second and 1080p at 60 frames per second, and also take 12 MP photos. To get a smooth video, there is a three-axis motorized stabilizer.

In addition, the brand new drone has a number of innovations for comfortable use:
The latter mode has several types for shooting: Rocket - for quick take-off with the camera down, while the flight altitude can be limited; Cirlce - flying around an object; Dronie - flight back and up with a camera fixed on the object, while the flight altitude can be limited; Helix - take-off in a spiral upward, height restriction is also available.

Together with the Mavic Mini, the user can purchase a number of additional accessories:
You can buy a brand new drone right now. For the standard version of the Mavic Mini they ask for $499, the version of the Mavic Mini Fly More Combo will cost $624 already.